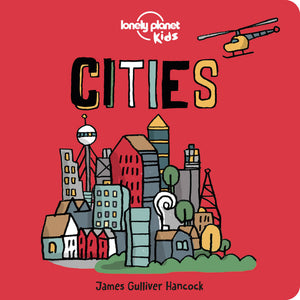 In this fun and light-hearted introduction to cities, find out about the different styles of homes, types of transport, places to visit, emergency services, and much more. From skyscrapers to museums, and rooftop gardens to houseboats, discover what makes cities tick around the clock with this engaging book.
With bright, bold and colorful illustrations by James Gulliver Hancock and easy-to-read text throughout, toddlers and very young children will gain an invaluable insight to how urban areas work. Covering a range of topics from housing to sporting events and everything in between, this is perfect for curious young minds to learn more about the world.
As part of a series which also includes 'Airports' and 'Trains', this is the perfect introduction to cities for infants and very young children.
About Lonely Planet Kids: Lonely Planet Kids - an imprint of the world's leading travel authority Lonely Planet - published its first book in 2011. Over the past 45 years, Lonely Planet has grown a dedicated global community of travellers, many of whom are now sharing a passion for exploration with their children. Lonely Planet Kids educates and encourages young readers at home and in school to learn about the world with engaging books on culture, sociology, geography, nature, history, space and more. We want to inspire the next generation of global citizens and help kids and their parents to approach life in a way that makes every day an adventure. Come explore!