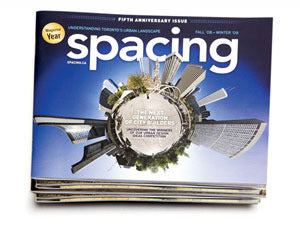 AUG 31 UPDATE: The subscription mailing for issue #64 has already commenced. Any subscriptions placed after that date will not include the upcoming issue, but will begin with issue 65, coming out in the winter.
If you or the person you are buying this for has previously had/currently have a subscription to Spacing and want to keep it going, this is the option for you.
Your subscription will begin with the next issue released from your sign up date. If you want to receive the current newsstand issue, it can be purchased here.
If your subscription hasn't expired yet, this renewal will start once your current subscription has run it's course.
If this is intended as a gift for someone else, please use the recipient's address when asked for the shipping address at the check out. If you wish to purchase other items for yourself, please place separate orders.

We are only able to send subscriptions within North America (Canada and USA). For overseas shipping, you can purchase individual issues here.
Please note: In order to properly process your order as a renewal, please make sure you use the same name as your previous subscription, or else we won't be able to match them up!
If you haven't had a subscription to Spacing in the past, please start a new subscription here.