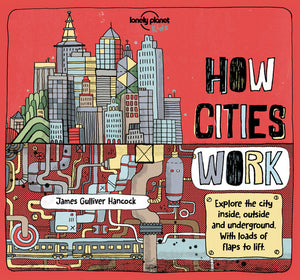 Get ready to explore the city in a whole new way. This innovative book for younger readers is packed with city facts, loads of flaps to lift, and unfolding pages to see inside buildings and under the streets.
Children aged 5+ can learn about skyscrapers, subway systems and stinky sewers. Discover where people live and peek behind closed doors to see what's going on in houses and apartments, or why not find out about what goes on underneath the streets you walk on every day?
Each page is stylishly illustrated by James Gulliver Hancock, creator of the All The Buildings That I've Drawn So Farseries (Universe Publishing) and there are loads of quirky details to spot. How many giant cowboy hats can you find through the book?
Created in consultation with Jill Sterrett, lecturer with the department of Urban Planning at the University of Washington.
Contents :
The birth of a city
In and out of the city
City living
Build, build, build!
High-rise life
Green spaces
Going underground
City hall
Emergency services
Recreation and culture
Night and day
Cities of the future
About Lonely Planet Kids:From the world's leading travel publisher comes Lonely Planet Kids, a children's imprint that brings the world to life for young explorers everywhere. With a range of beautiful books for children aged 5-12, we're kickstarting the travel bug and showing kids just how amazing our planet can be.
From bright and bold sticker activity books, to beautiful gift titles bursting at the seams with amazing facts, we aim to inspire and delight curious kids, showing them the rich diversity of people, places and cultures that surrounds us. We pledge to share our enthusiasm and love of the world, our sense of humour and continual fascination for what it is that makes the world we live in the diverse and magnificent place it is.
It's going to be a big adventure - come explore!
2018 Texas Topaz Nonfiction Reading List