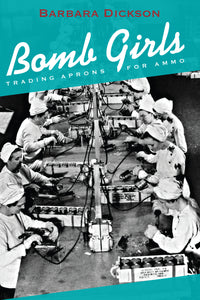 2016 Speaker's Book Award — Shortlisted
2016 Heritage Toronto Book Award — Nominated

An account of the women working in high-security, dangerous conditions making bombs in Toronto during the Second World War.

What was it like to work in a Canadian Second World War munitions factory? What were working conditions like? Did anyone die? Just how closely did female employees embody the image of "Rosie the Riveter" so popularly advertised to promote factory work in war propaganda posters? How closely does the recent TV show, Bomb Girls, resemble the actual historical record of the day-to-day lives of bomb-making employees?

Bomb Girls delivers a dramatic, personal, and detailed review of Canada's largest fuse-filling munitions factory, situated in Scarborough, Ontario. First-hand accounts, technical records, photographic evidence, business documentation, and site maps all come together to offer a rare, complete account into the lives of over twenty-one thousand brave men and women who risked their lives daily while handling high explosives in a dedicated effort to help win the war.