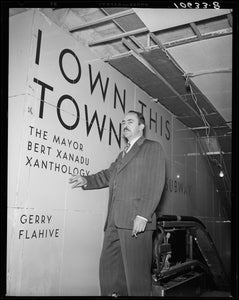 The book that dares to ask: "Does Toronto exist? And if so, why?"
A Toronto Twitter favourite since 2009, the charmingly bombastic Bert Xanadu -- the mayor and movie showman Toronto never had -- makes his book debut with the publication of this satirical work of fiction I OWN THIS TOWN: THE MAYOR BERT XANADU XANTHOLOGY, by Gerry Flahive.

A collection of essays, screeds, proclamations, asides, orders, observations, outbursts and flattery, the book draws from the 9,000 + tweets written by Flahive as Bert Xanadu since 2009 (@MovieMayor), and includes original articles written for the book, as well as pieces published at Spacing.ca and Torontoist.com, a foreword by Lorne Greene (Television Star of Note & Former Voice of Doom) and a sexier foreword by Marlene Dietrich (Chanteuse & Moody Schauspielerin). The book is illustrated by 20 photos from the phenomenal collection of the City of Toronto Archives -- all of which have been re-captioned to transport their meaning into Bert's world of 1973.
Elected 27 times as mayor, and a confidante of such Hollywood royalty as Morey Amsterdam and Peter Lawford, Xanadu presides over a mythical and dishevelled 1973 City of Toronto and the slightly fictionalized Imperial Six cinemas (Yonge Street's long-gone palace of guilty pleasures).

Chapters include 'A Typical Day for A Hypnotic Leader', 'General Hooray, Canada's Only Celebrity Magazine', 'Why Can't Men Be Buxom?', 'That's A Lovely Rotunda You Have There', and an outline of Xanadu's plans for Toronto Island, 'The Dominion Nudie Zoopraxographical Hall'.

"Bert Xanadu is to Toronto what Dame Edna is to snobbery: a satire more accurate than the real thing."
Giller Award-Winning Novelist & Poet Michael Redhill
Paperback.
177 pages.