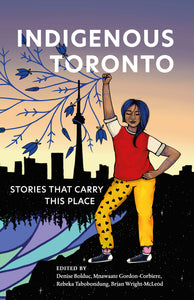 Rich and diverse narratives of Indigenous Toronto, past and present
Beneath many major North American cities rests a deep foundation of Indigenous history that has been colonized, paved over, and, too often, silenced. Few of its current inhabitants know that Toronto has seen twelve thousand years of uninterrupted Indigenous presence and nationhood in this region, along with a vibrant culture and history that thrives to this day.
With contributions by Indigenous Elders, scholars, journalists, artists, and historians, this unique anthology explores the poles of cultural continuity and settler colonialism that have come to define Toronto as a significant cultural hub and intersection that was also known as a Meeting Place long before European settlers arrived.
"This book is a reflection of endurance and a helpful corrective to settler fantasies. It tells a more balanced account of our communities, then and now. It offers the space for us to reclaim our ancestors' language and legacy, rewriting ourselves back into a landscape from which non Indigenous historians have worked hard to erase us. But we are there in the skyline and throughout the GTA, along the coast and in all directions." – from the introduction by Hayden King