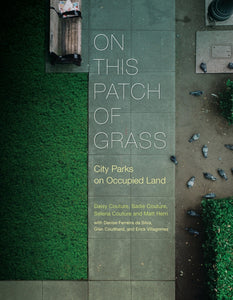 Parks are importantly fertile places to talk about land. Whether its big national parks, provincial campgrounds, isolated conservation areas, destination parks, or humble urban patches of grass, we tend to speak of parks as unqualified goods. People think of parks as public or common land, and it is a common belief that parks are the best uses of land and are good for everyone.
But no park is innocent. Parks are lionized as "natural oases," and urban parks as "pure nature" in the midst of the city — but that's absurd. Parks are as "natural" as the roads or buildings around them, and just as political. Every park in North America is performing modernity and settler colonialism everyday. Furthermore, parks are not private property, but while they are called 'public', they are highly regulated spaces that normatively demand and closely control behaviours. Parks are a certain kind of property, and thus creations of law, and they are subject to all kinds of presumptions about what parks are for, and what kinds of people should be doing what kinds of things in them. Parks — as they are currently constituted — are colonial enterprises.
On This Patch of Grass is an investigation into one small urban park — Vancouver's Victoria Park, or Bocce Ball Park — as a way to interrogate the politics of land. The authors grapple with the fact that they are uninvited guests on the occupied and traditional territories of the Musqueam (x?m??k??y??m), Squamish (Skwxwú7mesh), and Tsleil-Waututh (s?lilw?ta??) nations. But Bocce Ball Park is also a wonderful place in many ways, with a startling plurality of users and sovereignties, and all kinds of overlapping activities and all kinds of overlapping people co-existing more-or-less peaceably. It is a living exhibition of the possibilities of sharing land and perhaps offers some clues to a decolonial horizon.
The book is a collaborative exercise between one white family and some friends looking at the park from a variety of perspectives, asking what we might say about this patch of grass, and what kinds of occupation might this place imply.