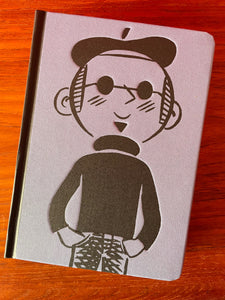 Taddle Creek called it a day in the fall of 2022, after 25 years and 50 issues. So many memories ... But memories are ephemeral and don't look so hot on a bookshelf. Solution: The Taddle Creek Book!
Now you can remember your favourite magazine forever, with this 370-page hardcover collection of fiction, poetry, features, and comics (not to mention a grammar rant or two), featuring 32 pages of colour comics, a cover by Hartley Lin, and original endpapers by Matthew Daley. 
The Taddle Creek Book contains 70 pieces by almost as many authors, including Suzanne Alyssa Andrew, Sonja Ahlers, Gary Barwin, Cedar Bowers, Chris Chambers, Evie Christie, Michael Christie, Kevin Connolly, Lynn Crosbie, Andrew Daley, Peter Darbyshire, John Degen, Alfred Holden, Jasper Jubenvill, Dave Lapp, Hartley Lin, Derek McCormack, Joe Ollmann, Stuart Ross, Noah Van Sciver, Walter Scott, Fiona Smyth, R. M. Vaughan, Maurice Vellekoop, Emily Pohl-Weary, Adrienne Weiss, Jessica Westhead, Lindsay Zier-Vogel, and many more of your favourites from the magazine's pages. Plus: a forward by Taddle Creek!
Format: Hardcover; 5.5" x 7.5"; 370 pages.