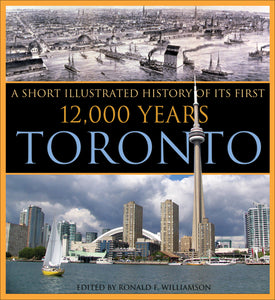 In this illustrated history of Toronto, Peter Carruthers's preface introduces the theme of Toronto as a middle ground: geographically a meeting point between Canada's vast natural resource wilderness, such Atlantic Ocean seaports as New York and Montreal, and the sprawling continental Midwest, and since prehistory, a place of meditation and exchange between different cultures and peoples. With the stage thus set, Robert MacDonald's first chapter takes us back 12,500 years, in its description of the geological and ecological history of the area's ancient landscape.
Ronald F. Williamson then pieces together the little-known archaeological record that tells us about the lives of the aboriginal people who made temporary camps and villages along the river valleys and lakeshore.
Carl Benn describes the colonial transformation of York at the edges of the great struggles for empire during the 1700s, and its growth into the most important urban, institutional, cultural and commercial centre in Upper Canada during the early 19th century.
Christopher Andreae transports us to its age of industry, the century of technological and industrial evolution between the first local railway's start in 1851 and World War II's end.
Finally, Roger Hall brings Toronto into the twenty-first century, analyzing the forces that saw the city shuck its staid and sanctimonious image as a good place (in Northrop Frye;s words) to mind your own business and emerge as a vigorous, multicultural metropolitan centre that continues to re-invent itself.