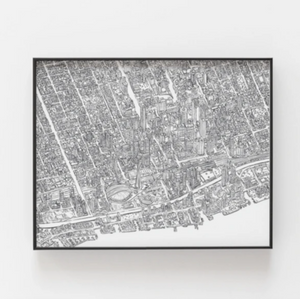 Brand: Gotamago
This elegant archival print features a black & white hand-drawn map of downtown Toronto. The incredibly detailed axonometric drawing including beloved landmarks such as Toronto City Hall, the CN Tower, Skydome, Toronto Waterfront & Music Gardens, the Flatiron Building and skyscrapers of the Financial District. The subtle details are sure to delight any architecture or cartography lover.

8"x10". Frame not included.


Printed in Toronto on acid-free, 255gms Epson Somerset Velvet paper with a beautiful watercolour texture, 

using archival inks with a colour permanence rating of more than 75 years.