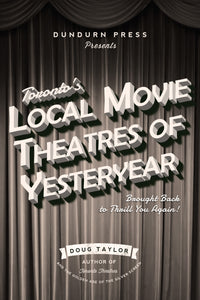 2017 Theatre Library Association Book Awards — Nominated, Richard Wall Memorial Award
2017 Heritage Toronto Book Award — Nominated

Slip once more into the back rows of the favourite movie theatres of your youth.

"Brought Back to Thrill You Again" was an advertisement employed by theatres to disguise that they were offering older films that were past their prime. In the 1950s a sign appeared outside Loew's Downtown (the Elgin) displaying these commonly used words. The theatre was screening Gone With the Wind, released in 1939. However, in this instance the claim was accurate, as the film did indeed thrill audiences one more time.

Similar to this cinematic classic, this book will thrill you again as it brings back memories of Toronto's old movie theatres. Relive the experience of sitting in their darkened auditoriums, witnessing the adventure, comedy, and romance of the silver screen. Most of the theatres have been demolished, but to visually recreate them, the book includes 128 historic pictures of the theatres — exteriors, marquees, colourful neon signs, and auditoriums — many of the photos never before published in books or on the internet.